Year 13 International Student Celine Bui, Dux of OSC 2021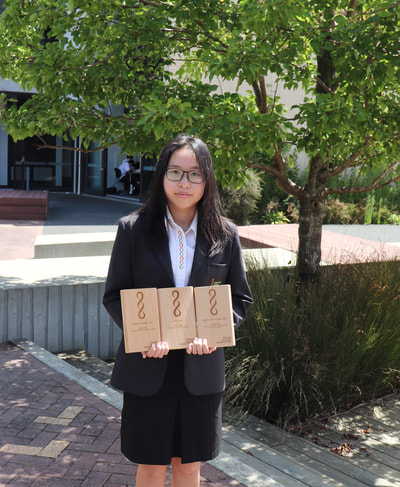 At the end of year 2021 awards ceremony, international student Celine Bui from Vietnam was awarded four awards including the prestigious DUX award for the highest academic achievement amongst her peers. The University of Canterbury and the Discovery award for sustained creativity, innovation, and extension of learning, the Growth award for sustained personal growth and resilience and the Kahikatea award for academic excellence. Celine achieved exemplary academic success gaining NCEA Level 2 and Level 3 excellence endorsement.
Celine is an intelligent, articulate, conscientious, and motivated individual who sets herself high challenging goals and works with determination to achieve them. Celine thinks deeply and analytically with a genuine love of learning. She was President of the Debating team and Science club and Vice President of the Interact club, a student leader and member of the hockey and orienteering teams. Celine has been an active participant of the ePro8 (Engineering problem-solving competition), Ormiston Senior College's first participant in the NZYPT (physics-problem tournament) and Auckland Schools Debating competition (OSC achieving six consecutive wins).
Celine is now studying at the University of Auckland having been awarded a $20,000 scholarship to study a Bachelor of Engineering.
Leaksmy Cheamorn, Cambodia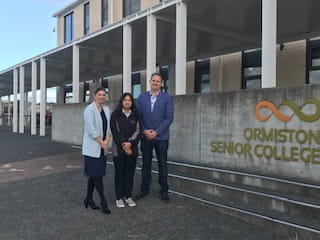 Year 13 international student, Leaksmy Cheamorn from Cambodia graduated from Ormiston Senior College today after studying at the school for the past three years. Leaksmy has been a dedicated and motivated student who has particularly enjoyed the Arts subjects and plans to pursue her love for creative arts and design at a university in Cambodia where she will study Architectural Design. We wish Leaksmy all the very best for her future studies.
Michelle Nguyen, Viet Nam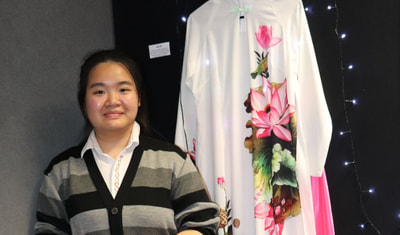 I moved to New Zealand in the middle of high school, so I didn't know what my future would be like and whether or not I made the right choice. But after studying at OSC for almost two years, I realized that it was a life-changing decision.
My studies and work experience opportunities at Ormiston were geared towards my future education. I was lucky to have very supportive teachers, international students managers and career departments who are always ready to share their knowledge and guide me through my study journey. Due to the language barrier and cultural differences, I was facing a lot of struggles when learning and socializing. However, both students and teachers in Ormiston community were kindly helping me adapt to the new education system and get out of my comfort zone to accept new challenges.
Over the last two years, I have always been grateful for all the care and support I was given. A massive thanks to Mrs Harvey, Mrs Chand, Mr Crosby, Mrs Anderson from the career department and last but not least Mrs Crossley from the International Department. Coming to OSC was a great choice that has helped me prepare for further education.
Bun Thong Chea, Cambodia

My name is Thong. Studying abroad is what I always dreamed of doing when I was young. Until I turned 15, I was able to pursue this dream by coming to study in New Zealand. I chose to study at Ormiston Senior College because of the amazing student stories that have been shared on the school website.
When I first arrived here, everything seemed to be pretty hard at first as I had to go through a completely new chapter of life. Everything that I had experienced previously back in my homeland tends to fade away. Besides, I experience a new way of learning, my routine also changes and my life seems to become more independent. However, with the help of Mrs. Lisa and Mrs. Peters (International Department), everything tends to become brighter over time.
Apart from that, learning also plays an important role during this experience. The way of teaching in Ormiston Senior College tends to be very modern as there are more research and experiment involved in learning as well as following the theory in the book. Moreover, independent learning is a core here which leads every student to be more mature and be able to make their own decision in life. As a result of the curriculum that the school provides, I was able to become a better learner. Furthermore, it also provides me a head start and a stronger base as I begin my first year in University next year.
In conclusion, every knowledge and experience I have right now wouldn't happen without the help from all the teachers and team in Ormiston Senior College. I would like to pay some respect and say thank you for all the effort that everybody had put in. Finally, I won't forget this unforgettable gift that you all hand into my life.
Aaron Bui, Viet Nam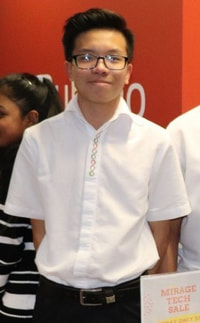 When I first arrived in New Zealand, it was a bit overwhelming to me because this is a new chapter in my life. However, that feeling soon goes off as I met and made a lot of new friends here, they are wonderful and amazing and incredibly friendly. Furthermore, the learning for me here at the beginning was quite difficult as I have to learn new things in a foreign language. That is when the teacher came in! The teachers here are the best, they guide me through a lot of difficulty, especially in learning and helping me achieve my goals. Therefore, as time went by, I have learned many new things in my career pathways which are Accounting and Economics. I am fond of analyzing the market and how the economy of New Zealand operates. Because of this reason, I chose to study Social Science subjects. My experience here in New Zealand has been a great journey for myself as I met new people, learn new things and I will keep setting new and higher goals every day for me.
Lessie Leng, Cambodia
Kia Ora everyone!
Greeting to all fellow students and teachers. I am Ly Eng which is known as Lessie. I have studied in Ormiston Senior College for 1 year, which I have made a lot of memories and experiences in my last year of high school.
When I was first transferred to this school, I was very nervous as I was not familiar with the learning system and the people. Moreover, I was also concerned about my communication, since I am not the type of person that has good communication skills as well as getting to know more people, it was very hard for me at first. Thankfully, over time including the upbringing and support from the teachers and students, I was able to improve myself and get more familiar with the school.
As a student, I would like to have this opportunity to endorse all the teachers, staff, students, and especially the teacher at the international department, Mrs Crossley at Ormiston Senior College. The learning environment at Ormiston Senior College is one of the best places that I have experienced, especially during my high school life. I have learned a lot in this school, not only with my academic learning. However, I also get to know more about other different cultures by the opportunities that were given by the International department. I also get to adventure New Zealand more through the activities provided.
Teachers and students are amiable and generous, that makes me feel welcomed and accepted, which could not be overlooked. Teachers have advised my career pathway that is significant to me. A special appreciation to Mrs Patience, International department teachers, Mrs Crossley and Mrs Peters and my subject teachers for guiding and developing me and my friends that let me experience all the best in high school.

A peak body for schools supporting international students in the education sector.